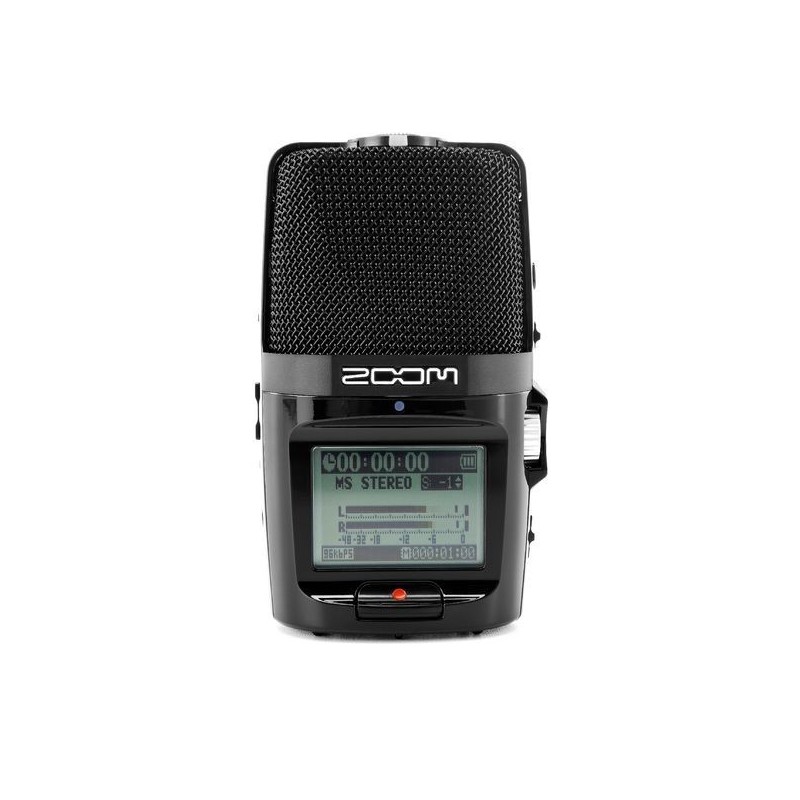  
L'enregistreur portable Zoom H2n. Le nouveau standard de l'enregistrement itinérant.
Incarnant la nouvelle génération d'enregistreurs portables, le H2n est l'appareil le plus innovant jamais crée par Zoom. Zoom a condensé un nombre conséquent de caractéristiques dans un appareil ultra portable qui vous permettra d'obtenir une qualité d'enregistrement audio remarquable en toutes circonstances.
2 pistes stéréo en enregistrement simultané
5 capsules micros différentes capables d'enregistrer en mode MS ou en mode X/Y 90° stéréo
Réglages par molettes et sélecteurs extérieurs pour une facilité d'utilisation optimum
Enregistrement sur carte SD/SDHC jusqu'à; 32GB
120dB SPL max
Format: STEREO Mode: PCM (Quantization : 16/24bit, Sampling Frequency : 44.1/48/96kHz), MP3 (Bit Rate : 48 to 320kbps, Sampling Frequency : 44.1kHz)
4CH Mode: PCM (Quantization: 16/24bit, Sampling Frequency: 44.1/48kHz)
Lo-cut Filter, Compressor/Limiter, Auto Gain, Pre-Rec, Auto-Rec, => Tuner, Metronome, Variable Speed Playback, Key Control, A-B Repeat, ->File Dividing, Normalize, MP3 Post-Encode, Marker, Surround Mixer
Ecran LCD rétro-éclairé 128x64pixels
Input Gain : 0 à; 39dB
Entrée Mic/Line: 1/8"; stereo phone jack (Plug-in power supported)
HP intégré 400mW 8ohms
Port USB 2
Alimentation : 2 piles AA/LR6 ou adaptateur (non fournis)
Autonomie jusqu'à; 20h en mode 16bit/44.1kHz WAV
Dimensions : 67,6 x 113,8 x 42,7mm
Poids : 130g (sans les piles)
Accessoires fournis : 1 carte SD 2GB, 2 piles AA, CD d'installation Steinberg WaveLab LE 7
No customer reviews for the moment.